Reduce lines & wrinkles and hydrate all-at-once with 100% pure, real and effective active botanicals for your skin. This clinically-effective serum deeply hydrates, plumps and diminishes the appearance of visible fine lines for healthy, bouncy, youthful skin.
True Glow Active Botanical Glow Serum is designed to address problems like dullness, dryness and lines & wrinkles, but is also excellent for reducing signs of aging and delivering your skin an intense boost of hydration, essential fatty acids and antioxidants.
Rose

Organic Jojoba

Hazelnut

Organic Rosehip

Squalane

Tamanu

Pomegranate

Raspberry Seed
Papaya Seed

Strawberry

Meadowfoam

Carrot

Prickly Pear

Turmeric

Geranium

Lemongrass
Why it's special:
Deeply hydrating and helps the skin on a deep level. It is fantastic for imbuing the skin with the appearance of a dewy glow.

Rapidly absorbs into the skin where the special fatty acids get to work making the skin feel calm and balanced.

This serum can be used morning and night, under makeup and doubles as a moisturizer. It is appropriate for those with sensitive skin, hyperpigmented skin, aging skin, dry skin, oily skin and all types of skin in between.
Good To Know: Natural, Gluten Free, Hypoallergenic, Non-comedogenic, No Mineral Oils, No Animal Testing, No Phthalates, No Parabens, No Sulfates, Recyclable Packaging, Made In USA
Size: (34ml | 1.15 oz.)
---
Active botanicals help your skin retain moisture and reduce the appearance of dullness. While many creams and lotions tend to stay on the surface of the skin, this natural serum is easily absorbed to help nourish the skin where it needs it most.
---
Rose
The Queen of the flowers is one of the most beautifying oils in existence. It's deeply hydrating and helps the skin on a deep level not always reached by other botanicals. It's fantastic for imbuing the skin with the appearance of a hydrated and youthful glow.
Jojoba
This multitasking natural hydrator reduces inflammation and repels bacteria, while reducing lines and wrinkles and soothing dry skin.
Rosehip Seed Oil
Considered a "dry" oil because it doesn't leave an oily finish on the face, Rosehip Seed Oil absorbs quickly making the skin feel calm and balanced. Rich with antioxidants like vitamin C, it's fabulous for brightening skin and improving elasticity.
Carrot Seed Oil
Like every oil worth its salt, carrot seed oil is balancing to both dry and oily skin. It makes the skin feel more resilient and thus more likely to age beautifully. It combines phenomenally with the other oils in our serum and does its job alone and in conjunction with the enhancements provided by its accompanying botanical friends.
Raspberry Seed Oil
Rich in a plethora of moisturizing essential fatty acids, vitamin E and vitamin A, It absorbs quickly and leaves the skin feeling soft, juicy and taken care of — a fabulous way to cap off an already amazing array of oils for your skin.
---
Skin types
Hyperpigmented skin

Normal skin

Sensitive skin

Oily / Combination skin
Concerns
Dark spots

Dullness

Lines & wrinkles

Sagging skin

Uneven complexion

Dehydration
---
Apply 2-3 pumps all over face for an effortless, dewy glow that lasts all day. Apply after cleansing and toning. Wear alone or under makeup.
Expert tip: For best results, apply True Glow after cleansing your face with Blackout.
Available in kits:
How we create carbon neutral skincare
---
Our environmental commitment to nature and the sustainability of our planet is echoed in each bottle and further driven by our commitment to carbon-neutral manufacturing, eco-friendly bottling, and sourcing of only the finest earthbound ingredients.
Every bottle of 2BETRUE is manufactured in the USA in a women-owned and operated facility, powered 100% by renewable wind energy.
Every part of the products packaging is recyclable, and we bottle all of our products in glass - a fun and creative medium for tons of upcycling possibilities.
Through our tree planting partner, The Eden Reforestation Project, we plant 1 Mangrove tree in Madagascar for every order we receive. Our Mangroves store 4x the carbon compared to tropical rainforests. This is one of the ways that we minimize the impact of all of the natural raw materials that we ask our beautiful earth to provide for us.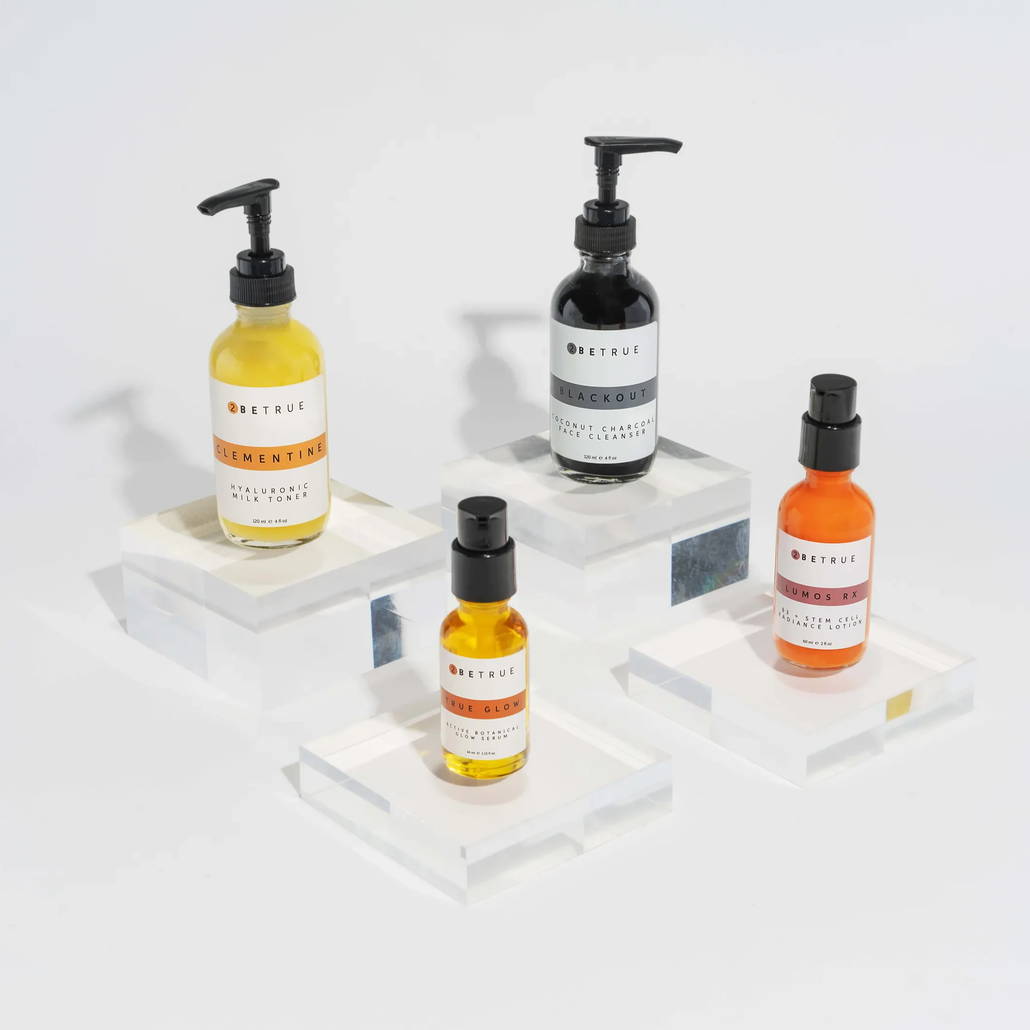 The Radiance Kit 
Lumos RX + True Glow + Blackout + Clementine
$99 $121 (Save $20)
This four-step skincare routine is built around plant extracts and oils that smooth away imperfections like uneven texture, scarring, hyperpigmentation, and redness. Use them regularly to get the dreamy glow of youth and vitality.