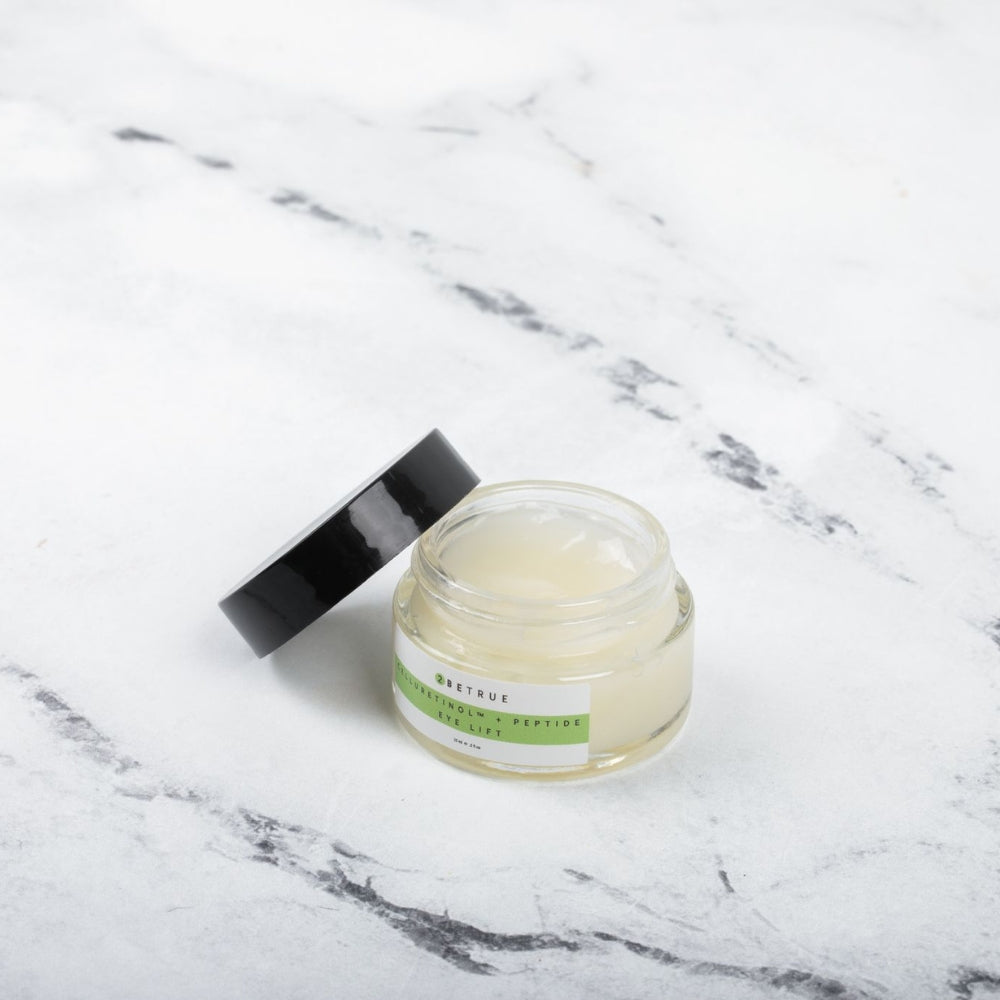 Celluretinol™ + Peptide Eye Lift: Uniting (plant-based) Stem Cells, Retinol, and Peptides for Ultimate Rejuvenation
Clinically-proven formulas, science-backed results.
Clean, natural, high-grade ingredients.
Noticeable difference in less than two weeks.
Formulated with proprietary Celluretinol™, exclusive to 2betrue.
Free US shipping & easy returns
Vegan & natural ingredients
100% money-back guarantee
Here's what Celluretinol™ + Peptide Eye Lift can do for your skin.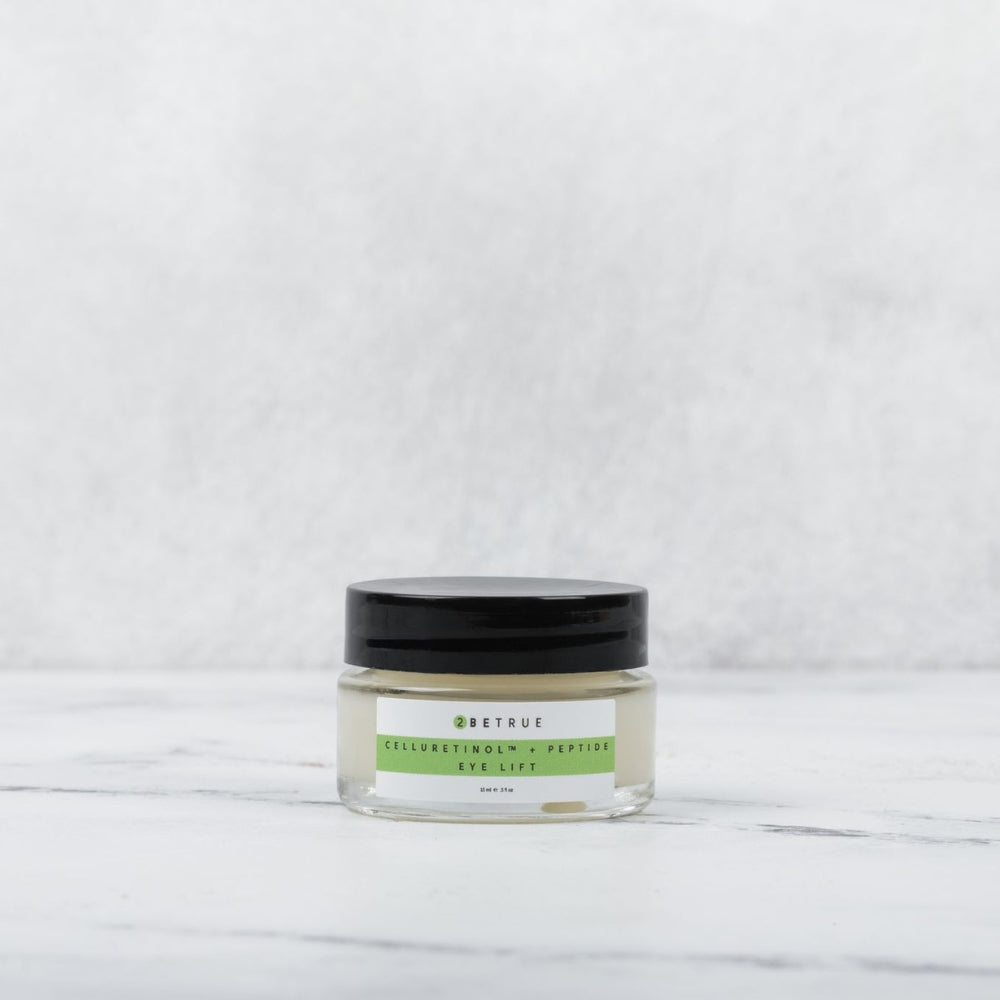 Celluretinol™ offers retinol benefits without irritation
Potent peptides visibly diminish wrinkles
Effectively targets crow's feet, under-eye bags, and dark circles
Pure 100% vegan and natural, dermatologist approved and clinically tested
offer temporary surface-level
solutions for skin aging.
That's because they've got it backwards.
To achieve long-lasting radiance, your routine should hydrate, firm, and brighten starting with cellular renewal.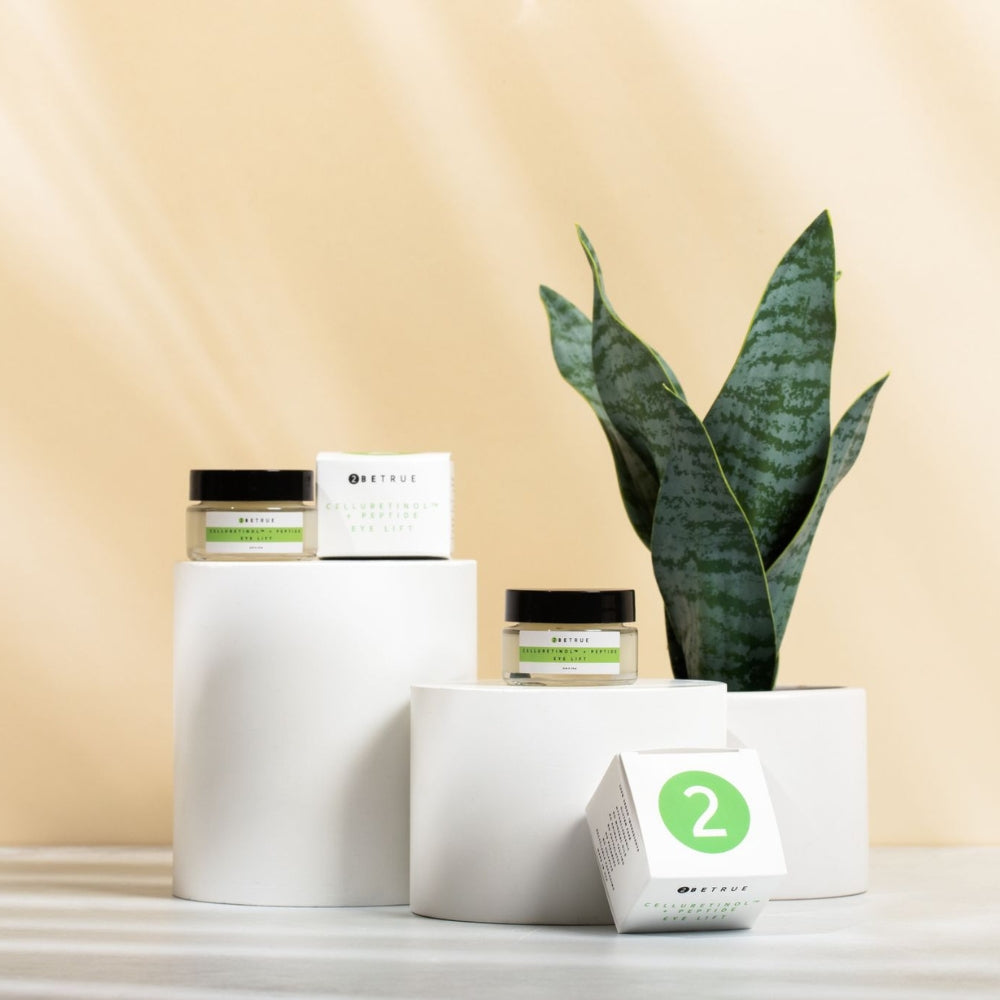 Cell turnover is crucial for maintaining skin elasticity and plumpness. Plant-derived Stem Cells repair fine lines and wrinkles, while the Hyaluronic Acid in our formula attract moisture deep into the skin, ensuring optimal hydration. This not only plumps up the skin, reducing the appearance of fine lines, but also supports healthy cell function for enduring skin health.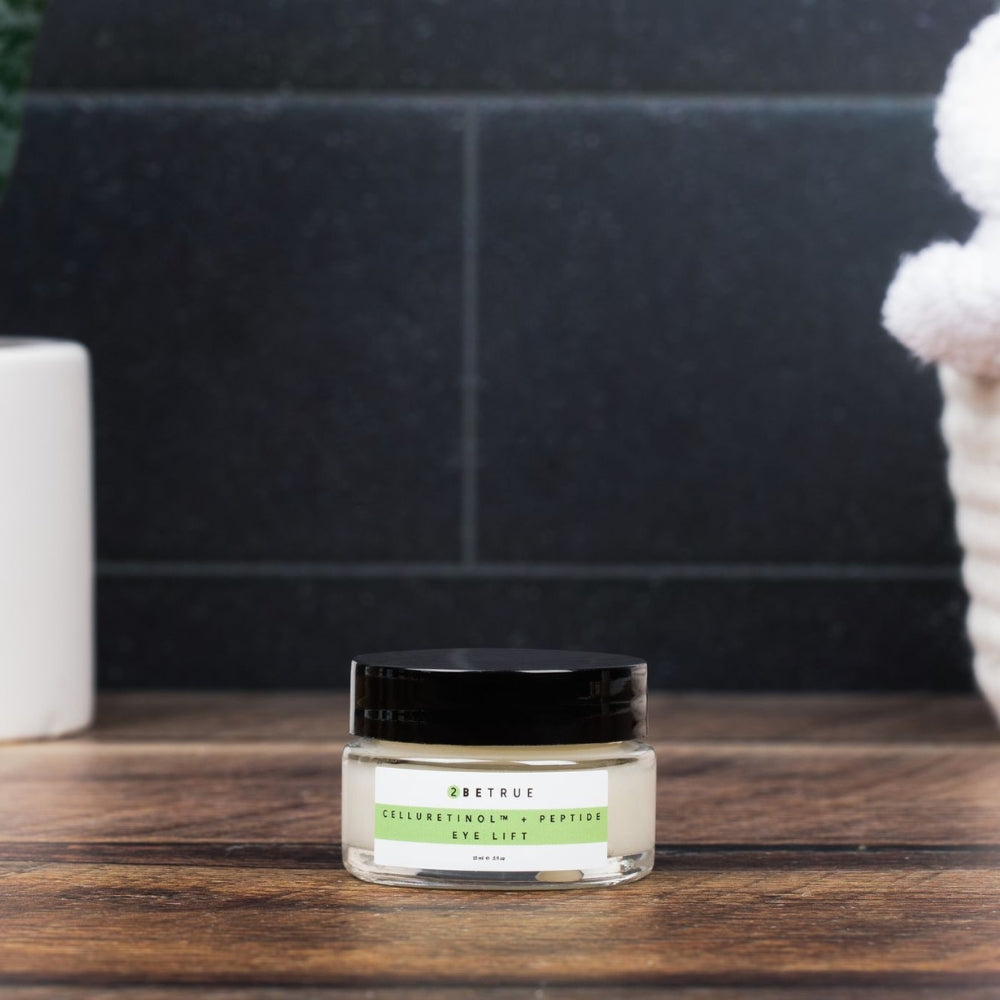 Peptides are key in promoting skin firmness at a cellular level. They signal skin cells to produce more collagen, the protein responsible for skin's firmness and structure. This helps in reducing sagging and maintaining a youthful, firm appearance around the delicate eye area.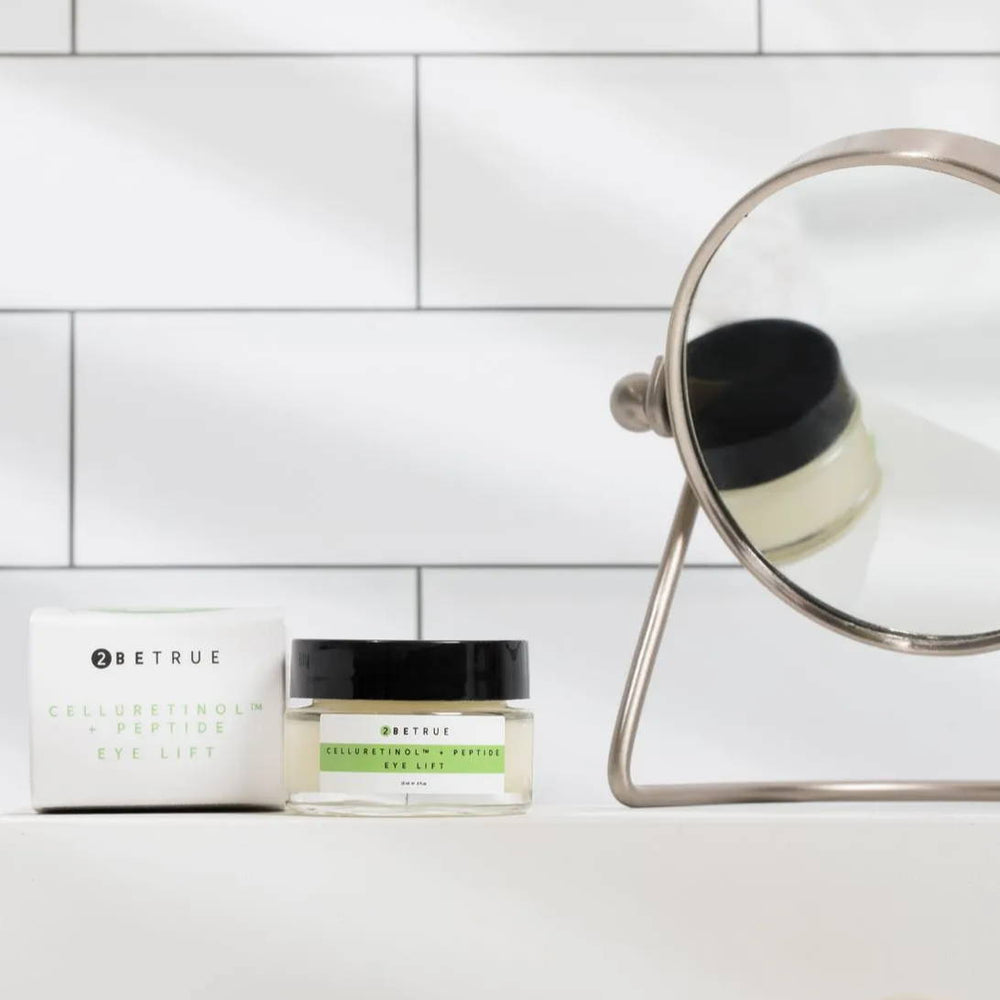 Vitamin C is a powerhouse for brightening. It works at a cellular level to inhibit melanin production, which can cause dark spots. By promoting a more even skin tone and reducing the appearance of dark circles, Vitamin C ensures your eyes look refreshed and vibrant.
Through the masterful integration of potent ingredients in Celluretinol™ Eye Lift, this product enhances the overall health and appearance of your eye area. It protects the delicate skin from environmental damage, strengthens its natural barrier, and ensures deep hydration. By targeting the unique needs of the eye region at a cellular level, it rejuvenates and revitalizes, leaving you with a visibly brighter, firmer, and more youthful gaze.
A visibly rejuvenated, luminously plump eye area that epitomizes youthful vitality.
Daily use delivers a comprehensive blend of skin nourishing ingredients for fast-acting results.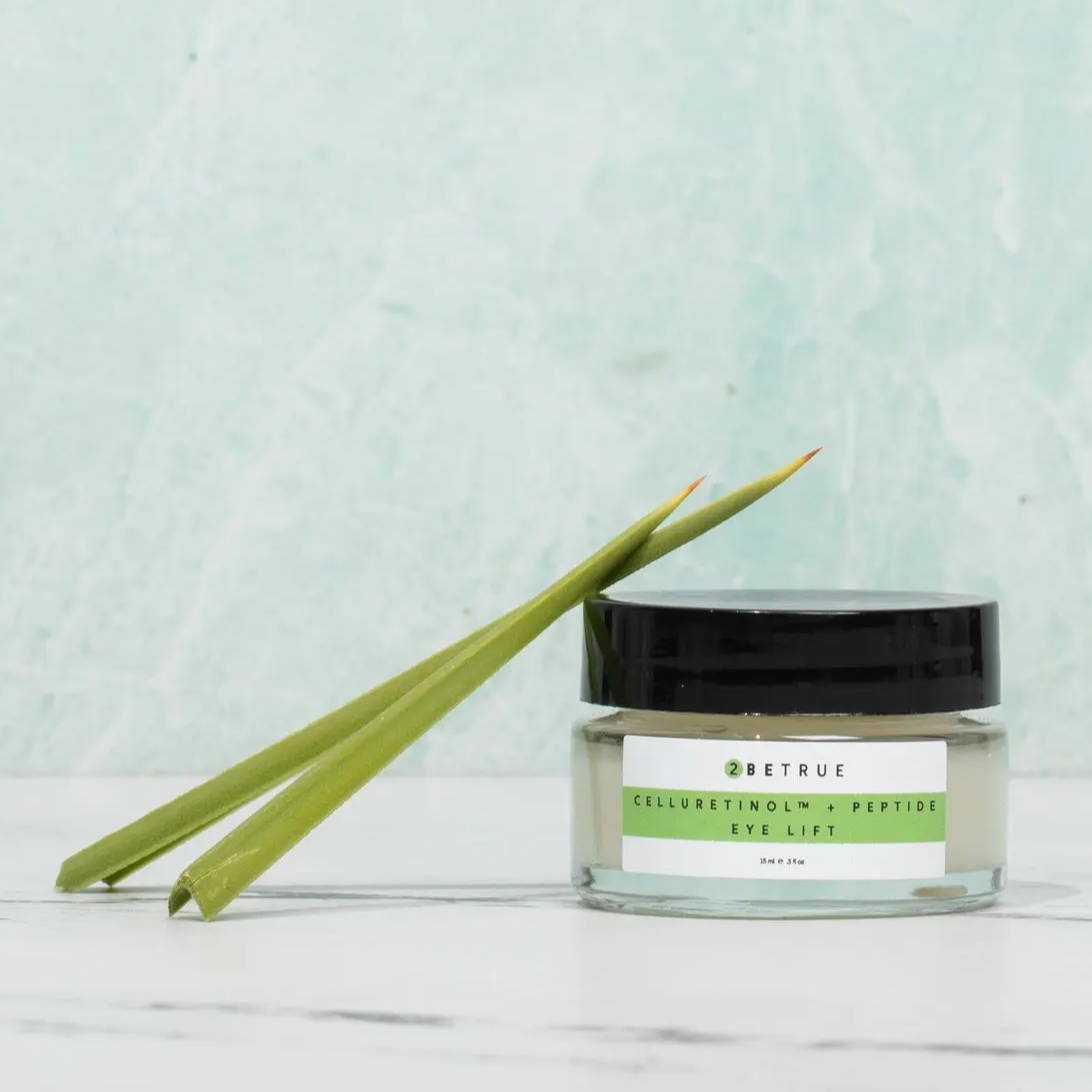 Peptide Precision: Target fine lines and signs of aging with our peptide blend, restoring firmness and smoothness.

Defy Puffiness: Say goodbye to under-eye bags. Our formula offers a fresh and awakened look every morning.

Gentle Power: Suitable for all skin types, including sensitive skin, providing potent benefits without harshness.

Nature's Touch: Empower your skincare with plant stem cells promoting vibrant, renewed skin.

Seamless Absorption: Our light, non-greasy formula ensures deep penetration, nourishing with every application.
Plant Stem Cells: Collagen-boosting, wrinkle-reducing marvels from nature.

Peptides: For a tighter, lifted look around your eyes.

Retinol: Smoothens wrinkles for a youthful gaze.

MSM & Hyaluronic Acid: Combats puffiness and hydrates for a radiant look.

Vitamin C & Amino Acids: Brighten and rejuvenate for a revitalized appearance.
Aqua (Deionized Water), Aloe Barbadensis Leaf Juice (Organic Aloe), Glycerin (Kosher, Vegetable), Dimethyl Sulfone (Msm), Xanthan Gum, Butyrospermum Parkii Butter (Shea Butter), Phenoxyethanol (Preservative), Crithmum Maritimum Extract (Sea Fennel), Cucumis Sativus Fruit Water (Cucumber Hydrosol), Globularia Cordifolia Callus Culture Extract (Plant Stem Cells), Sclerotium Gum, Citrus Paradisi Peel Oil (Pink Grapefruit), Chondrus Crispus Extract (Irish Moss), Foeniculum Vulgare Fruit Extract (Fennel), Ganoderma Lucidum Extract (Organic Reishi), Panthenol (Vitamin B-5), Calophyllum Inophyllum Seed Oil (Tamanu), Rosa Canina Fruit Oil (Organic Rosehip Seed), Lecithin, Pentylene Glycol, Cinnamomum Camphora Wood Oil, Butylene Glycol, Sodium PCA, Ethylhexylglycerin (Preservative), Caesalpinia Spinosa Gum (Tara, Botanical Hyaluronic Acid), Sodium Ascorbyl Phosphate (Vitamin C), Sodium Lactate (Lactic Acid), Boswellia Serrata Oil (Frankincense Essential Oil), Arginine, Carbomer, Polysorbate 20, Aspartic Acid, Palmitoyl Tripeptide-5, Retinol (Vitamin A), Potassium Sorbate (Preservative), Sodium Benzoate (Preservative), Glycine, Caprylic/Capric Triglyceride (Fractionated Coconut Oil), Hydrogenated Vegetable Oil, Alanine, Alcohol, Potassium Phosphate, Sodium Hydroxide (Caustic Soda), Tocopherol (Vitamin E), Achillea Millefolium Extract (Yarrow), Astragalus Membranaceus Root Extract (Organic Astragalus), Centella Asiatica Extract (Gotu Kola), Equisetum Arvense Extract (Horsetail), Rumex Acetosa Leaf Extract, Tussilago Farfara Flower/Leaf Extract, Vaccinium Macrocarpon Fruit Extract (Cranberry), Yucca Glauca Root Extract (Yucca), Serine, Propolis Extract, Palmitoyl Tetrapeptide-7, Palmitoyl Tripeptide-1, Valine, Isoleucine, Proline, Threonine, Histidine, Phenylalanine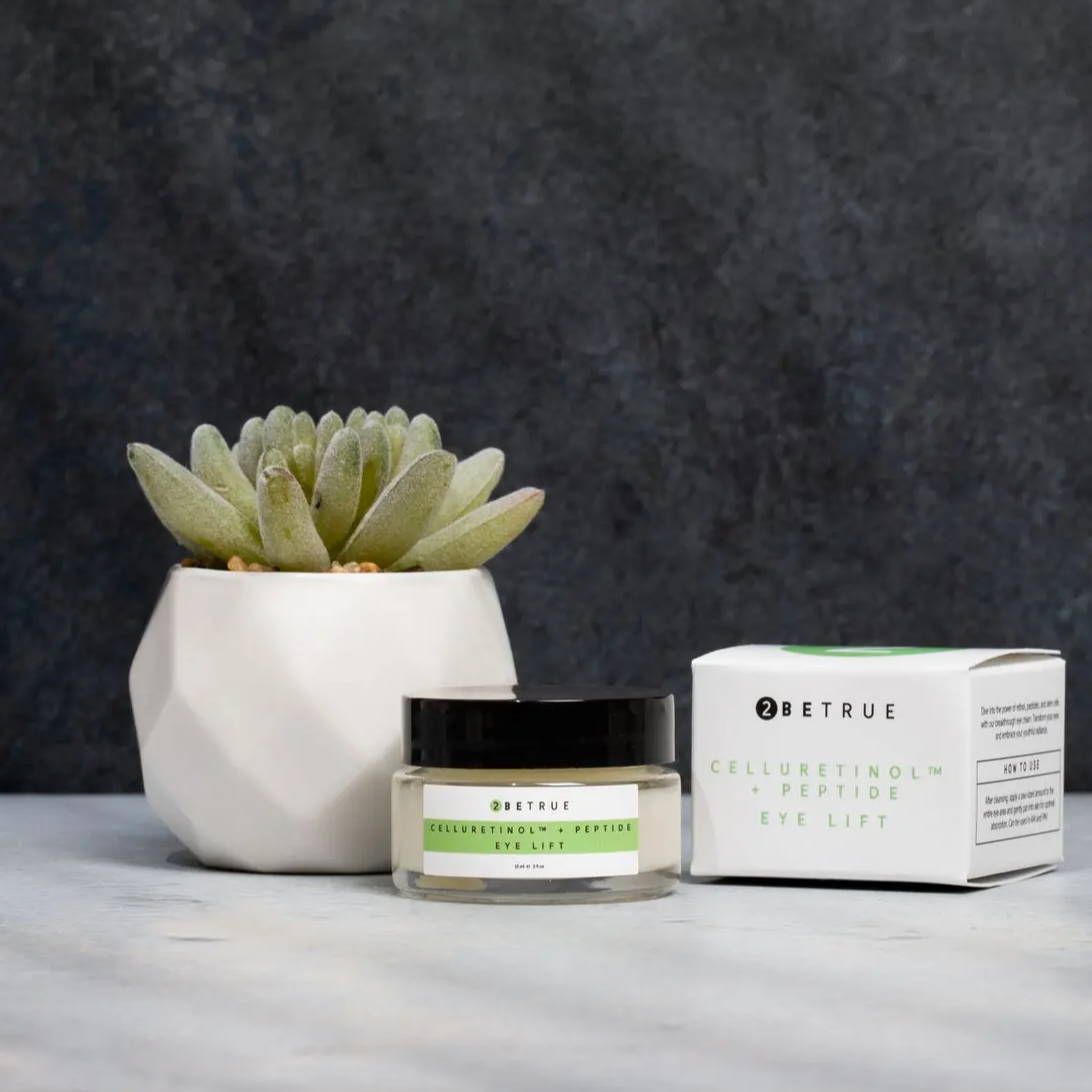 Celluretinol™ vs. Drunk Elephant
2betrue cuts no corners to bring you exceptional quality that tastes amazing and delivers results as promised.
Unique Celluretinol™ and peptide formula, with plant stem cells
Niacinamide and standard anti-aging ingredients
High-efficiency peptides for maximum skin firming and anti-aging
Lacks efficiency peptides
Intense hydration with hyaluronic acid for plump, moisturized skin
Offers moderate hydration
Targets all signs of aging including wrinkles, fine lines, and puffiness
Primarily focuses on wrinkle and fine line reduction
Addresses a wider range of eye skin concerns including hydration, firming, brightening, and anti-aging
Primarily focuses on anti-aging and collagen boosting, with limited scope for other concerns
Designed for quick, visible improvements within 30 days
Varies in time to visible results
Strengthens the skin barrier with a balanced formulation, promoting overall eye skin health
Does not emphasize skin barrier enhancement, focusing more on surface-level treatmentv
Designed for quick, visible improvements within 30 days
Varies in time to visible results
A transformative eye cream for
Glowing results in as little as 2 weeks.
"Amazing results! The Celluretinol™ Eye Lift visibly reduced my fine lines and puffiness in just weeks. Truly a game changer for my skincare routine!"
"I love how the Eye Lift is so light, and my skin feels firmer. An indispensable part of my daily skincare!"
My eyes are noticeably less puffy
"I'm impressed with Celluretinol™ Eye Lift! It has diminished my crow's feet and brightened my eyes remarkably. It's not just a cream, it's a daily dose of confidence!"
A few of our happy customers
I USE CELLURETINOL™ + PEPTIDE EYE LIFT FOR:
Brighter, more Radiant Eyes
THE HOLY GRAIL TO GLOWING SKIN!
I've always struggled with dark circles, but since using 2betrue's Celluretinol™ + Peptide Eye Lift, I've noticed a remarkable difference. The skin around my eyes is visibly brighter and more radiant. It feels like this product has not only illuminated my eyes but also added a sparkle to my entire face. Highly recommend for anyone looking to brighten their eye area!
I USE CELLURETINOL™ + PEPTIDE EYE LIFT FOR:
FIRMING MAGIC IN A BOTTLE
I've been on the hunt for a product that truly firms the skin around my eyes, and I've finally found it with Celluretinol™ Eye Lift. After just a few weeks of use, I noticed a significant firming effect. The skin around my eyes feels tighter and more lifted, giving me a more youthful look. This product is a firming miracle!
I USE CELLURETINOL™ + PEPTIDE EYE LIFT FOR:
"I was initially skeptical about any product claiming to reduce crow's feet, but Celluretinol™ Eye Lift has completely changed my perspective. Within just a month of use, I've noticed a significant reduction in the depth and visibility of my crow's feet. It's as if each application smooths away the years, leaving my eyes looking brighter and more youthful. I'm beyond impressed and grateful for this incredible product!"
I USE CELLURETINOL™ + PEPTIDE EYE LIFT FOR:
Hydrating Dryness Around Eyes
Good moisturizing, good absorption and not greasy to relieve dry eyes, it's worth it! I love this product!
Discount & gifts are automatically applied at checkout
Free US shipping & returns
30-day money-back guarantee
3 Celluretinol™ + Peptide Eye Lift
96% agreed their eyes looked brighter with less wrinkles after 90 days (3 jars)
Free US shipping & returns
30-day money-back guarantee
Best for a consistent anti-aging eye treatment
Happy customers are our no. 1 priority so we offer a 30-day 100% happiness guarantee. If you're not delighted with your purchase, you may return your package to us for a refund anytime within the first 30 days of your purchase.
Answers to your questions
What makes Celluretinol™ + Peptide Eye Lift different from other eye creams on the market?

Our patented Celluretinol™ blend combines plant-based stem cells with retinol and peptides, offering a scientifically-backed solution to combat multiple signs of aging around the eyes. This unique formula is specifically designed for rapid, effective results.
Do I have to sign up for a subscription?
No, these offers are one-time only purchases
Is this product suitable for all skin types?
Yes, our eye lift cream is formulated to be gentle yet effective on all skin types, including sensitive skin. It's enriched with natural ingredients like Aloe and Shea Butter to nourish the skin while combating signs of aging.
How soon will I see results?
While individual results may vary, many users notice an improvement in the appearance of fine lines, puffiness, and dark circles within just a few weeks. We offer a 30-day money-back guarantee if you don't see significant improvements.
How do I use this product for best results?
For optimal results, apply a small amount of Celluretinol™ + Peptide Eye Lift to the eye area twice daily—morning and night. Gently tap the product into the skin using your ring finger to facilitate absorption.
What's the full list of ingredients?
MSM: A naturally-occurring compound, MSM is known for its anti-inflammatory properties, helping to reduce redness and enhance skin's overall glow. Often referred to as the "beauty mineral", MSM boosts collagen and keratin production for firmer, smoother skin.

Plant Stem Cells: Harnessing the power of botanical science, plant stem cells stimulate skin's natural regenerative processes. They work to protect the skin from damage, promote elasticity, and reduce the appearance of fine lines.

Panthenol: Also known as Pro-Vitamin B5, Panthenol deeply hydrates and moisturizes the skin. It aids in skin regeneration, helping to soothe and reduce redness, leaving the complexion looking plump and refreshed.

Vitamin C: An antioxidant powerhouse, Vitamin C fights free radicals and environmental aggressors. It brightens the complexion, reduces the appearance of dark spots, and promotes collagen production for youthful, radiant skin.

Retinol (vitamin A): This plant-derived retinol is a gentle yet effective alternative to traditional retinoids. It promotes cellular renewal, reduces the appearance of wrinkles, and helps even out skin tone without the typical sensitivities.

Hyaluronic Acid: A hydration hero, Hyaluronic Acid can hold up to 1,000 times its weight in water. It draws moisture into the skin, providing intense hydration and creating a plump, youthful appearance.

Peptides: These short chains of amino acids act as building blocks, promoting collagen and elastin production. They help firm the skin, reduce the appearance of wrinkles, and provide a rejuvenated complexion.

Amino Acids: The essential building blocks of proteins, amino acids support collagen synthesis, hydration, and skin's natural repair processes. They work to improve skin texture, elasticity, and overall vitality.

Crithmum Maritum: Often referred to as sea fennel, Crithmum Maritum thrives in salty environments. It's packed with minerals and vitamins, offering antioxidative properties, enhancing skin's radiance, and promoting a more even skin tone.

FULL LIST: Aqua (Deionized water), aloe barbadensis leaf juice (Organic aloe), glycerin (Kosher, vegetable), dimethyl sulfone (Msm), xanthan gum, butyrospermum parkii butter (Shea butter), phenoxyethanol (Preservative), crithmum maritimum extract (Sea fennel), cucumis sativus fruit water (Cucumber hydrosol), globularia cordifolia callus culture extract (Plant stem cells), sclerotium gum, citrus paradisi peel oil (Pink grapefruit), chondrus crispus extract (Irish moss), foeniculum vulgare fruit extract (Fennel), ganoderma lucidum extract (Organic reishi), panthenol (Vitamin b-5), calophyllum inophyllum seed oil (Tamanu), Rosa canina fruit oil (Organic rosehip seed), lecithin, pentylene glycol, cinnamomum camphora wood oil, butylene glycol, sodium PCA, ethylhexylglycerin (Preservative), caesalpinia spinosa gum (Tara, botanical hyaluronic acid), sodium ascorbyl phosphate (Vitamin c), sodium lactate (Lactic acid), boswellia serrata oil (Frankincense essential oil), arginine, carbomer, polysorbate 20, aspartic acid, palmitoyl tripeptide-5, retinol (Vitamin a), potassium sorbate (Preservative), sodium benzoate (Preservative), glycine, caprylic/Capric triglyceride (Fractionated coconut oil), hydrogenated vegetable oil, alanine, alcohol, potassium phosphate, sodium hydroxide (Caustic soda), tocopherol (Vitamin e), achillea millefolium extract (Yarrow), astragalus membranaceus root extract (Organic astragalus), centella asiatica extract (Gotu kola), equisetum arvense extract (Horsetail), rumex acetosa leaf extract, tussilago farfara flower/Leaf extract, vaccinium macrocarpon fruit extract (Cranberry), yucca glauca root extract (Yucca), serine, propolis extract, palmitoyl tetrapeptide-7, palmitoyl tripeptide-1, valine, isoleucine, proline, threonine, histidine, phenylalanine
science-backed ingredients today!
Clinically-proven ingredient, science-backed results.
Clean, natural, high-grade ingredients.
Noticeable difference in less than two weeks.
Formulated with proprietary Celluretinol™, exclusive to 2betrue.
Free US shipping & returns
Vegan, natural Ingredients
100% money-back guarantee