Lumos RX
Niacinamide + Stem Cell Radiance Lotion
Lumos RX
Niacinamide + Stem Cell Radiance Lotion
Regular price
$3400
$34.00
A solution for brighter skin that looks more even, clear and glowing, while helping to reduce hyperpigmentation and dark spots.
What it is:
A potent brightening formulation of niacinamide, alpha arbutin, plant stem cells, plant peptides, astaxanthin, seaweed bioferment, licorice and vitamins C and E that is designed to fade dark spots, acne scars, age spots (liver spots) and hyperpigmentation, but is also excellent for hydrating, plumping and preventing damage from exposure to sun, wind and pollution.
Why it's special:
Niacinamide is one of the most powerful ingredients for reducing discoloration and balancing your complexion.

Contains Alpha Arbutin, a naturally occurring antioxidant and one of the most effective skin-lightening and spot-fading actives for any kind of skin discoloration, be it caused by sun exposure, acne scarring, or melasma.

Plant stem cells have properties that make them perfect for brightening, plumping and firming skin.

Fades dark spots, improves texture, and visibly evens skin tone, naturally.

Reduces acne and scarring.

Safe for all skin types, vegan & cruelty-free
Size: (60ml | 2 oz.)
---
Niacinamide, a.k.a. vitamin B3, helps the skin build the lipid barrier that's essential for locking in moisture. Plus, it significantly decreases hyperpigmentation and increases skin lightness.
Plant Stem Cells fight off wrinkles and plumps, firms and brightens skin.
Botanical Hyaluronic Acid supplements your skin's natural stores, providing the moisture it needs to stay supple and youthful. It also helps damaged skin heal faster by limiting inflammation, promoting blood flow, and repelling bacteria.
CoQ10 is an antioxidant enzyme your body naturally creates, but production declines as you age. Supplementing it is one of the best ways to fight the effects of aging—it smooths tone, boosts repair processes, eliminates free radicals, and reduces fine lines.
Vitamins C and E are essential fat-soluble antioxidants that reduce hyperpigmentation and scarring, prevent wrinkles, and smooth uneven skin.
Olive Oil Squalane protects your skin with a clean, natural barrier that locks in moisture without clogging your pores. It fills the tiny spaces between cells, leaving your skin feeling smoother and softer.
Aloe has serious anti-inflammatory powers, which makes it perfect for calming irritated skin and preventing acne. It's also packed with antioxidants and vitamins, and it locks in moisture without feeling oily.
Wakame Seaweed promotes skin elasticity and regeneration, in part by blocking the breakdown of your skin's natural hyaluronic acid. It's also full of antioxidants and B vitamins, which alleviate inflammation.
Green Tea is rich in catechins, natural compounds that have proven antioxidant and anti-inflammatory powers.
Turmeric activates the skin's most powerful anti-aging processes. It stimulates the production of anti-inflammatory proteins and internal antioxidants that eat up far more free radicals than any topical ingredient.
Licorice contains potent antioxidants, which fight inflammation, hyperpigmentation, and visible signs of aging.
Wild Cherry soothes irritated skin and keeps problems like eczema, psoriasis, and acne at bay.
Blue Tansy has high concentrations of camphor, which reduces inflammation and promotes the repair of damaged skin
---
Skin types
Hyperpigmented skin

Normal skin

Sensitive skin

Oily / Combination skin
Concerns
Dark spots / hyperpigmentation

Dullness

Uneven complexion

Dehydration
---
As the last step in your skincare routine, apply 1-2 pumps to your face, neck, and décolletage. For sensitive skin, use only at night. For normal to oily skin, use it in the morning before applying makeup or at the end of the day as a night cream.
Expert tip: For best results, apply after using a nourishing serum like True Glow or Antioxidant.
Available in kits:
How we create carbon neutral skincare
---
Our environmental commitment to nature and the sustainability of our planet is echoed in each bottle and further driven by our commitment to carbon-neutral manufacturing, eco-friendly bottling, and sourcing of only the finest earthbound ingredients.
Every bottle of 2BETRUE is manufactured in the USA in a women-owned and operated facility, powered 100% by renewable wind energy.
Every part of the products packaging is recyclable, and we bottle all of our products in glass - a fun and creative medium for tons of upcycling possibilities.
Through our tree planting partner, The Eden Reforestation Project, we plant 1 Mangrove tree in Madagascar for every order we receive. Our Mangroves store 4x the carbon compared to tropical rainforests. This is one of the ways that we minimize the impact of all of the natural raw materials that we ask our beautiful earth to provide for us.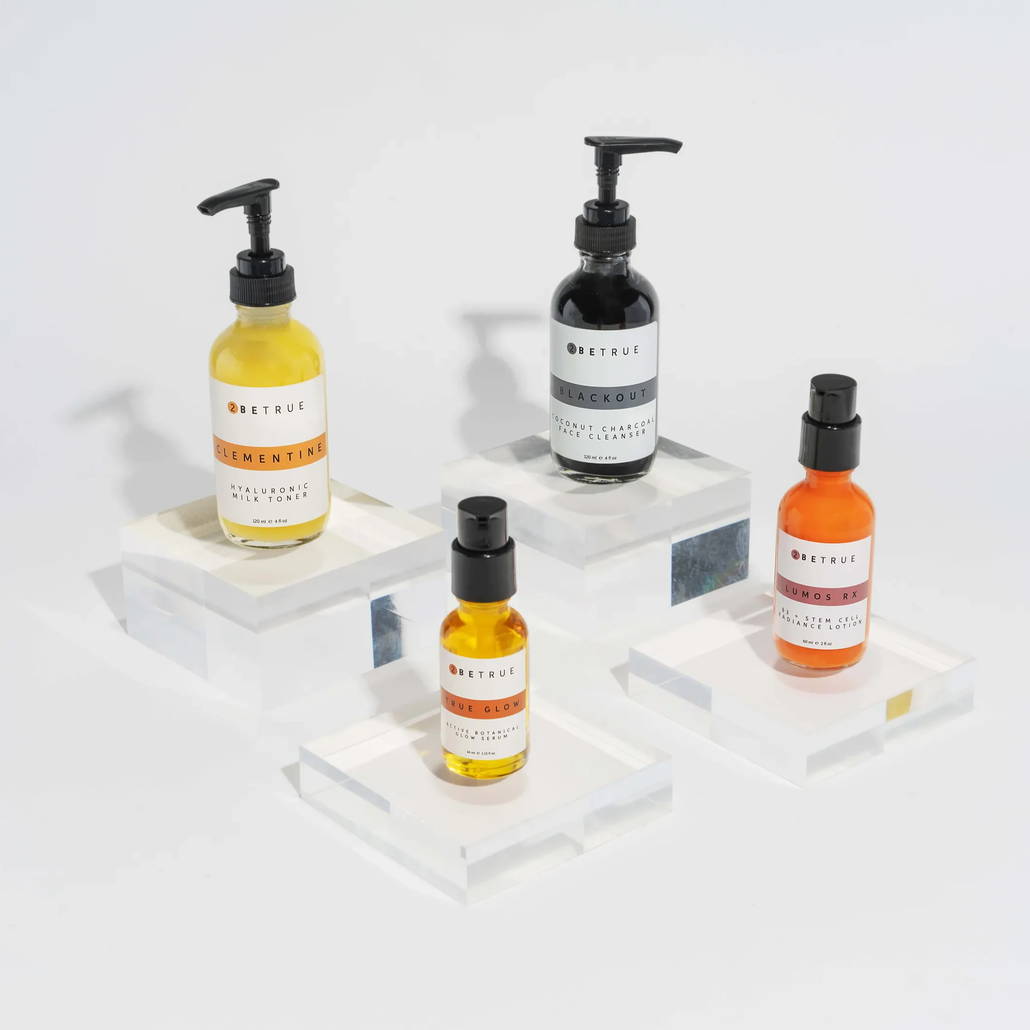 The Radiance Kit
The #1 clinically-effective routine for clear, even and glowing skin.
---
In a consumer perception study of 46 subjects after 3 weeks:
98% said skin looked brighter and more radiant

96% said it reduced the appearance of dark spots

97% said skin tone looked more even

95% said looked more youthful

97% agreed their skin texture had improved

92% agree this lotion diminished hyperpigmentation from sun spots

89% said their skin looks less dull