Blackout
Coconut Charcoal Face Cleanser
Blackout
Coconut Charcoal Face Cleanser
Our gentle coconut cleanser leaves your skin clean with a purified softness that will also help the rest of your skincare products work a lot better. With added anti-aging and skin soothing ingredients like organic aloe, lavender and reishi mushroom, this all-natural cleanser is the start of your glow routine.
Why it's special:
Blackout is made from activated coconut charcoal, a more efficacious ingredient compared to regular activated charcoal and is considered to be more pure, effective and safe for the whole body. It pulls out toxins and impurities from the skin with ease and helps the skin to have a soft, clean and purified look and appearance.
Safe for all skin types
Size: (120ml | 4 oz.)
---
Activated Coconut Charcoal has a molecular structure full of tiny spaces that, when they contact your skin, draw out blemish-inducing oil, bacteria, and toxins. Coconut is the purest source of activated charcoal, so naturally, it's the only kind we use.
Aloe has serious anti-inflammatory powers, which makes it perfect for calming irritated skin and preventing acne. It's also packed with antioxidants and vitamins, and it locks in moisture without feeling oily.
Astragalus Root, a common ingredient in traditional Chinese medicine, contains enzymes that contribute to your skin's natural collagen production and cell repair processes.
Lavender is a skincare powerhouse with the ability to kill bacteria, soothe dry skin, reduce hyperpigmentation, and smooth fine lines. Plus, it smells marvelous.
Reishi is a mushroom with potent anti-aging capabilities. It fights free radicals, strengthens the moisture barrier, and soothes irritation and discoloration. The result is plumper, smoother skin with reduced fine lines and acne scars.
Ingredients: Aloe Barbadensis Leaf Juice (Organic Aloe), Cocamidopropyl Betaine (Surfactant), Aqua (Deionized Water), Disodium 2-Sulfolaurate, Sodium Methyl 2-Sulfolaurate, Charcoal Powder, Glycerin (Kosher, Vegetable), Glyceryl Caprylate/Caprate, Lavandula Officinalis Flower Oil (Lavender Essential Oil), Cananga Odorata Flower Oil (Ylang Essential Oil), Citric Acid, Potassium Sorbate (Preservative), Sodium Benzoate (Preservative), Ethylhexylglycerin (Preservative), Propolis Extract, Astragalus Membranaceus Root Extract (Organic Astragalus), Cucumis Sativus Extract (Cucmber), Ganoderma Lucidum Extract (Organic Reishi), Lavandula Angustifolia Extract (Lavender), Symphytum Officinale Leaf Extract (Comfrey Leaf)
---
Can be used on face and/or body. Apply to hands, sponge, or cloth, moisten with water and wash. Rinse off and follow with our charcoal mask if desired.
How we create carbon neutral skincare
---
Our environmental commitment to nature and the sustainability of our planet is echoed in each bottle and further driven by our commitment to carbon-neutral manufacturing, eco-friendly bottling, and sourcing of only the finest earthbound ingredients.
Every bottle of 2BETRUE is manufactured in the USA in a women-owned and operated facility, powered 100% by renewable wind energy.
Every part of the products packaging is recyclable, and we bottle all of our products in glass - a fun and creative medium for tons of upcycling possibilities.
Through our tree planting partner, The Eden Reforestation Project, we plant 1 Mangrove tree in Madagascar for every order we receive. Our Mangroves store 4x the carbon compared to tropical rainforests. This is one of the ways that we minimize the impact of all of the natural raw materials that we ask our beautiful earth to provide for us.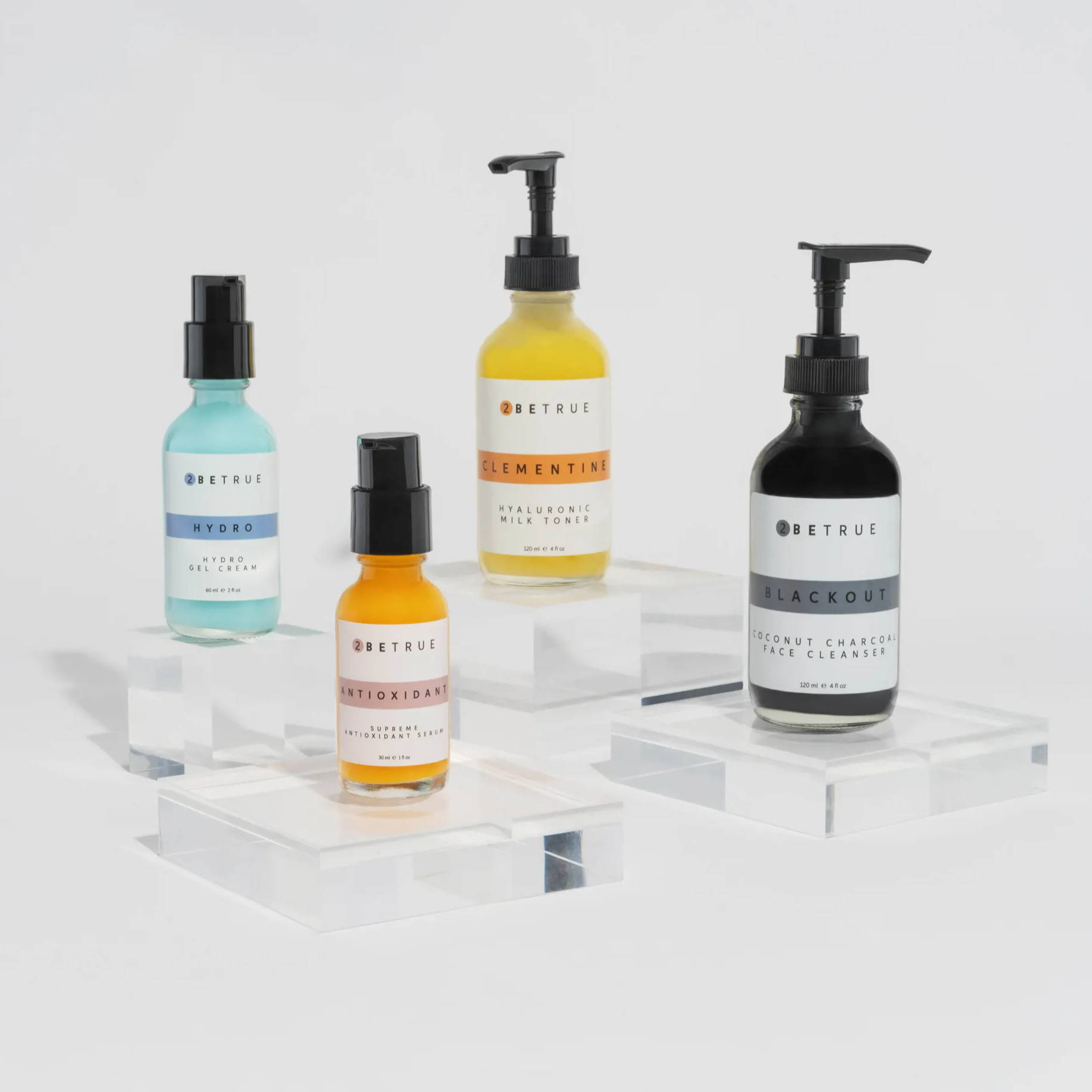 The Renew Kit
The essential four-step skincare routine that keeps skin calm, clear and healthy.
---
100% Money Back Guarantee if you are not completely satisfied with your purchase within 30 days of delivery.
Free shipping on orders $35+ (US Only)
100% Money-Back Guarantee
Earn 1 point per $1 spent with 2BT Rewards