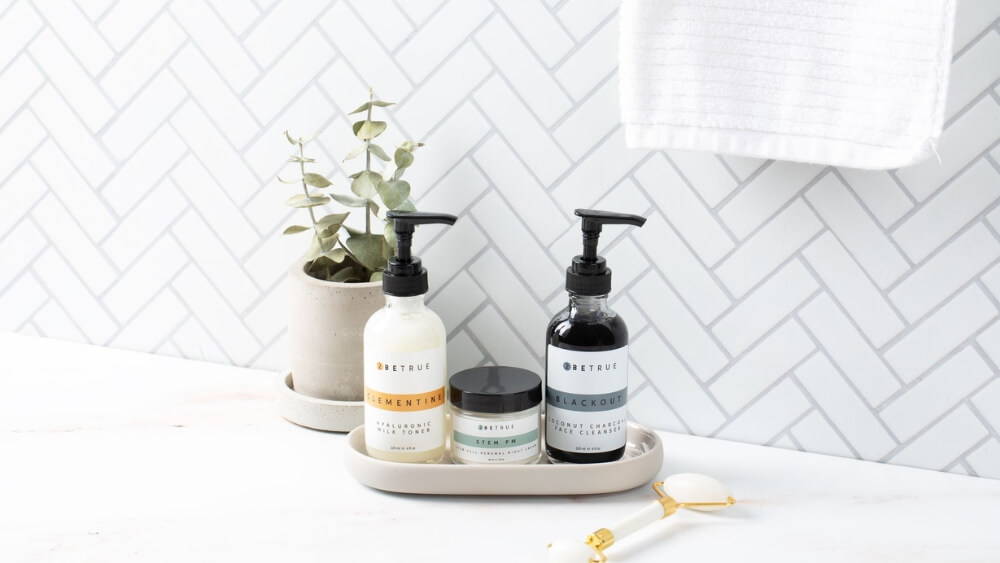 Hydration Heroes: The Best Moisturizers for Aging Skin

As we gracefully age, our skin does too. But aging doesn't mean losing your glow or letting fine lines dictate your skin story. With the right skincare regimen, you can maintain youthful, dewy skin that defies time. A key component of that regimen? Hydration, hydration, and more hydration! The 2BETRUE skincare lineup is here to be your go-to source of premium, hydration-boosting products, formulated with ingredients that quench your skin's thirst while preserving its youthful charm.
Understanding Skin Hydration and Aging
Before we delve into the details of hydrating ingredients, let's understand why hydration is so crucial for your skin. Think of your skin cells as individual building blocks - when they're plump with hydration, your skin looks smooth, radiant, and youthful. But as we age, our skin's natural ability to retain moisture decreases. External factors like climate and environmental pollutants, along with natural aging, can leave our skin parched and more susceptible to signs of aging, such as wrinkles and fine lines.
So, what can we do? We can actively support our skin's moisture levels through the products we use. This is where moisturizers and hydrating ingredients step into the picture. They help supply our skin with much-needed moisture and seal it in, keeping our skin plump, glowing, and visibly youthful.
The Hydration Heroes in 2BETRUE's Lineup
Let's introduce you to the hydration-boosting superheroes in the 2BETRUE skincare range:
1. Organic Aloe: Aloe vera is renowned for its soothing and hydrating properties. Its juice is packed with vitamins, enzymes, and amino acids that promote skin hydration and calm irritation.
2. Glycerin: Glycerin, specifically plant-based Glycerin, is a natural humectant. It helps to retain moisture within the skin, making it a powerful ally in maintaining skin hydration.
3. Peptides: These short chains of amino acids are the building blocks of proteins like collagen and elastin in our skin. Peptides in skincare products can help to signal your skin to produce more collagen, leading to a more youthful, firm appearance. They also assist in repairing skin damage and hydrating the skin, making them a key ingredient in high-quality skincare solutions.
4. Witch Hazel: Witch Hazel is an antioxidant and anti-inflammatory compound. It helps to soothe the skin, reducing redness and irritation while providing hydration.
5. Clementine Essential Oil: Clementine oil not only provides a fresh, vibrant scent but also offers a wealth of benefits to the skin. It promotes clarity, radiance, and skin hydration.
6. Botanical Hyaluronic Acid: This plant-derived form of Hyaluronic Acid delivers intense hydration, helping the skin retain its suppleness and elasticity.
7. Turmeric: Renowned for its anti-inflammatory properties, turmeric also helps boost skin hydration and brightness.
8. Wild Cherry: Wild cherry extract helps to soothe and hydrate the skin, enhancing its overall texture and tone.
9. Blue Tansy Essential Oil: This essential oil is known for its calming properties and its ability to retain skin moisture, reducing dryness and irritation.
10. Organic Licorice: Licorice root extract is widely appreciated for its ability to hydrate and soothe the skin. It's an effective ingredient for achieving a more uniform skin tone.
Why 2BETRUE Should Be Your Skincare Choice
At 2BETRUE, we're committed to quality. Our skincare line isn't about making quick fixes; it's about helping you nurture your skin for the long term. We believe in the power of natural ingredients and their potent effects, which is why our products are enriched with hydrating ingredients that are as effective as they are gentle.
More than just skincare, we aim to create a self-care ritual that you'll love. From the moment you cleanse your face to the last swipe of moisturizer, we want you to feel pampered, cared for, and confident. After all, glowing skin is always in, and with 2BETRUE's hydration heroes by your side, you're all set to glow today, tomorrow, and always! So, why wait? Discover the 2BETRUE skincare range today and elevate your skincare routine to the next level. Together, let's embrace aging with grace, confidence, and skin that's ever-glowing. Because at 2BETRUE, we believe in nurturing true beauty, at every age.